Jason Kottke has a blog post today about the beauty of gas stations. I agree that sometimes the architecture ist quite stunning.
My favorite is the Skovshoved Petrol Station located in Copenhagen and designed in 1936 by the Danish architect and designer icon Arne Jacobsen.
Do you wonder when we will have beautiful electric changing facilities? Oh wait a minute. Again the Danes: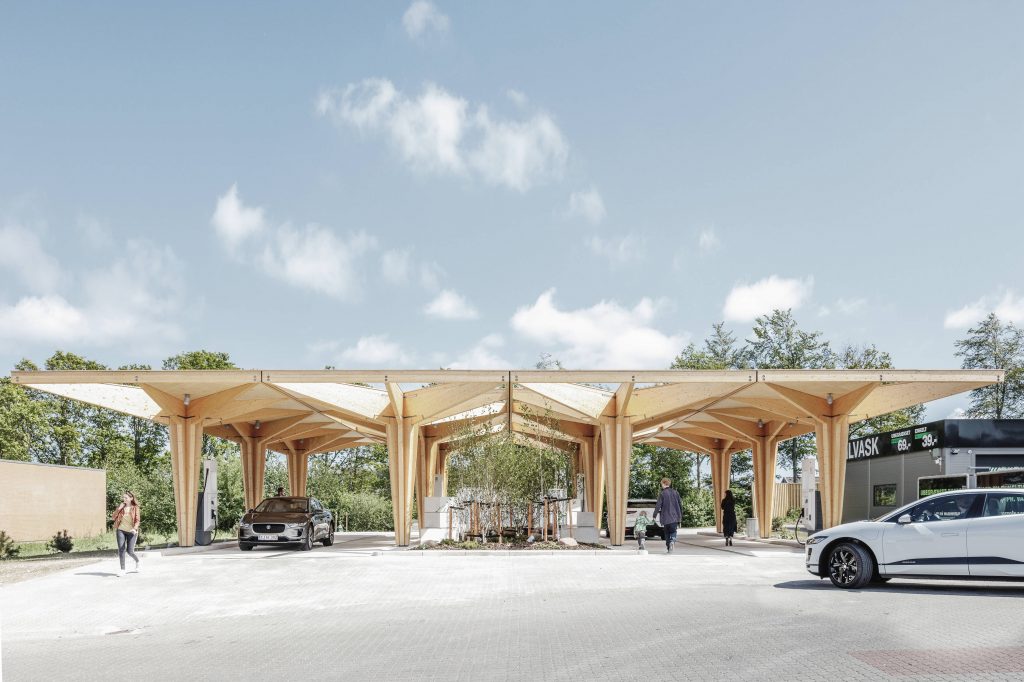 This is a charging station for electric vehicles designed by the Copenhagen architecture studio Cobe founded by Dan Stubbergaard in 2006.
He believes architects have a profound responsibility to create resilient, long-term solutions that improve life – cities, buildings, and landscapes that are made to outlast our generation.

Cobe
About the charging station Dan Stubbergaard says:
Electric vehicles are the way of the future. With our design we offer EV drivers a welcome break and an opportunity to recharge mentally in a green oasis. The energy and the technology are green, so we wanted the architecture, the materials and the concept to reflect that. Hence, we designed a charging station in sustainable materials placed in a clean, calm setting with trees and plants that offer people a dose of mindfulness on the highway.

Dan Stubbergaard
More generally he is
…inspired by the transformation of Copenhagen from an industrial port city to a beacon for liveability and sustainability… He is the leading figure in Cobe's work to create surroundings that actively contribute to extraordinary everyday life.

Cobe
This is an excellent claim, and I promise to visit Cobe's website more often to learn about their projects. I am sure they can convince me over and over again that sustainability can (and has to be) aesthetically pleasing.
By the way. The cover image above is from Cobe as well. It a bicycle parking spot under a hill.